These are crazy times. I'm lucky that during this time I can still do things that are in the vicinity of my comfort zone.
When working with a client or teaching a class I rely pretty heavily on liberating structures, training from the back of the room, innovation games and other facilitation techniques. Can these work in a virtual/remote environment? YES! Luckily, I've been working with some 100% distributed companies/organizations in the past so it's not all new.
Earlier this week I delivered a SAFe 5.0 Product Owners/Product Management POPM class to one of our clients. Doing it remotely as a live virtual classroom experience was challenging but ultimately fun and rewarding. When we discussed the experience with the students they said they were actually surprised how good it was compared to their expectations and that it gives them plenty of ideas for how to have effective virtual collaboration sessions on their Agile teams and Agile Release Trains in the upcoming months and beyond…
So what was my approach in the workshop? Here are some pointers. Most of them are as useful if you're planning to facilitate a Sprint Planning, Review, Retrospective and especially events at scale as part of SAFe, Large Scale Scrum, Nexus or Scrum at Scale:
We used Zoom – the leading technology for video-based collaboration – with the trainer and students with video on at all times

We leveraged these licensed zoom capabilities: (the paid zoom account is well worth it for serious meeting facilitation!)

Breakout rooms were used for implementing liberating structures such as 1:2:4:all or "virtual table" discussions and group exercises. In the class retrospective, several students said:

"

The break-out room online worked better than they work in a physical class"

"Hand signals"  like raising hands/faster/slower/thumbs up/down are used both on video as well as via the Zoom participants dashboard (Zoom nonverbal feedback) to quickly sense where the class is and facilitate group decisions

Students can either speak up at all times or write in the chat. This ISN'T closed webinar mode though. It's an open discussion with all students actively engaged. Having Video on at all times nudges people to be more engaged than just opening a screen share. 

Trainer and Students collaborate on the screen using the Zoom annotate feature

Polls are used to drive interaction and check the knowledge

We use a Trello board to facilitate the flow of the class – making it visible to all students after each break. 

Multiple and frequent breaks, as well as recommendations to students to take time to stretch during sessions. Standing tables are recommended – The trainer is standing throughout the class – which gives a more energetic poise and is closer to the classic trainer stance. 

A google Slides digital workbook is shared with all participants. Each "virtual team" gets one copy they all access throughout the class where they collaborate on group work

. Work done by the teams is reviewed/debriefed once the whole class rejoins from the breakout session. 

During Breakout the facilitator can "visit" each one of the "tables" either by looking at their digital workbook or by actually jumping into the discussion and checking in on them, answering questions, and guiding their process. For big groups, several facilitators can work with the bigger group. But sometimes it's best to just let the breakout rooms self-organize and debrief afterward!

I initially planned to use a virtual whiteboard such as Miro / Mural /  Conteneo/SAI Weave for design thinking/innovation exercises such as Participatory Budgeting, Buy a Feature, Speedboat, Business Model Canvas, as well as creating Kanban boards, Impact Maps, Story Maps, Personas. This time around due to the content as well as IT firewall limitations we stuck to google slides.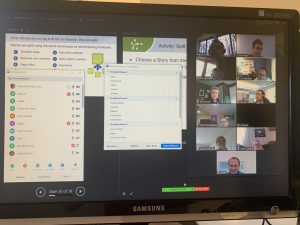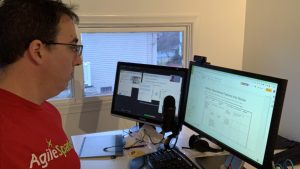 There's definitely a lot to inspect and adapt, but the feedback from this recent workshop as well as other classes my colleagues in AgileSparks have been running in the last couple of days is very encouraging. We can't wait to be back in the room having face-to-face conversations in front of a whiteboard. Meanwhile, let's do our best with what we have!
PS All AgileSparks public/private classes and activities are taking place as a live virtual classroom/workshop.
PPS I've been asked to run a webinar sharing these techniques and learnings. If you're interested, please share this blog and leave us a comment … the more interested the more convinced I'll be that this will be useful for people and worth the energy getting into!
This new context we're living in provides even more uncertainty and volatility and we will be trying to do our best to help our clients and students deal with this situation with more agility and empiricism. Busy times.
Stay Home. Stay Agile!