2020 - The year when we dropped a couple of rungs on Maslow's ladder when it comes to what health means...
The search for the right Health Check model
Back in 2015, I wrote in my personal blog about a Spotify Squad-level tool I started using in Executive/Management workshops as well as all-hands QuickStarts/QuickBoosts. I just realized I never mentioned it here on the AgileSparks blog. Also, the option to run this assessment using a Kahoot survey is especially relevant these days when we're all virtual.
This might also be good timing for you to facilitate a session where your team/squad/Tribe/ART can assess their "health" after working/living a different way for a couple of weeks now…
Kahoot works well online – Just share your screen (and audio for bonus points!) and everyone can join the Kahoot from their computers/mobile devices and participate. Other than that the rest of the blog post is evergreen…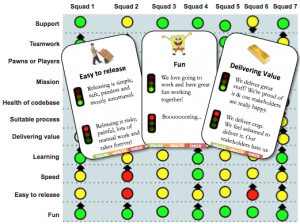 Even if you ignored the title and the featured image, some of you can probably guess I'm talking about the Spotify Squad Health Check model that Henrik Kniberg blogged about in September 2014 (Yes, Henrik, we know, you just blogged about it, you're just the messenger, ok, ok). I loved this model the moment I saw it. For years now I've been trying to go beyond practice-level assessments. For example Henrik's own Scrum Checklist.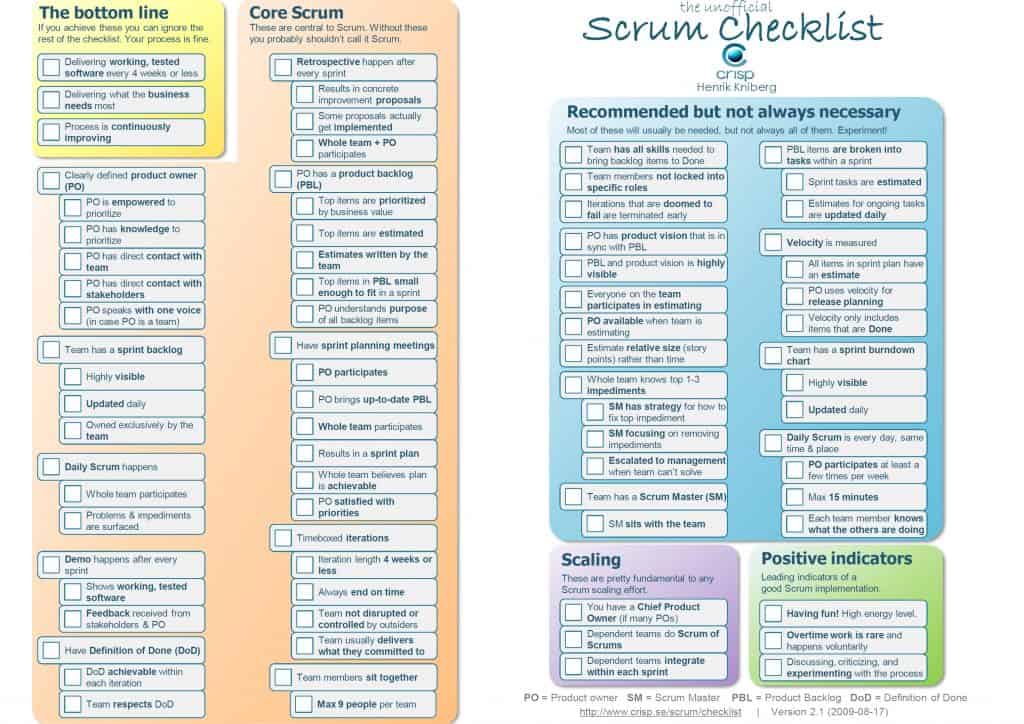 This is a great checklist you can use to make sure you are doing the scrum practices well. But there are a few problems with it. One is that it is hard for teams/organizations using different practices (e.g. from Kanban) to connect to this checklist. Another is that a lot of it is focused on practices that can be "faked" by the team as part of an "Agile Theater". Henrik DOES include a healthy dose of checks that are hard to fake but I've seen my share of teams that conveniently focus on the other "easier" more ceremony/title-oriented checks. Actually, the best parts of the checklist are on the bottom right (Positive Indicators) and upper left (The Bottom Line).
I've been using an AgileSparks alternative that is more generic and open to different practices – what we call the Lean/Agile Depth Assessment to help teams/groups restart their improvement journeys. But when I saw the Spotify Squad Health Check I fell in love. It is much simpler, cooler, and resonates better with teams as well as leaders. (Now that I look at both the Scrum checklist and the Squad Health Check mode side by side l I can see a certain relationship between them…)
Going beyond the team/squad
Since much of my work is at the group/enterprise level across several teams rather than with a specific team my first opportunities to try the model were actually for different usage than that documented by Henrik/Spotify. Here are a couple of suggested usage models you can consider (that I tried and got great results on) along the way to your agile improvement journey. I'll use the AgileSparks Way language so here it is for reference.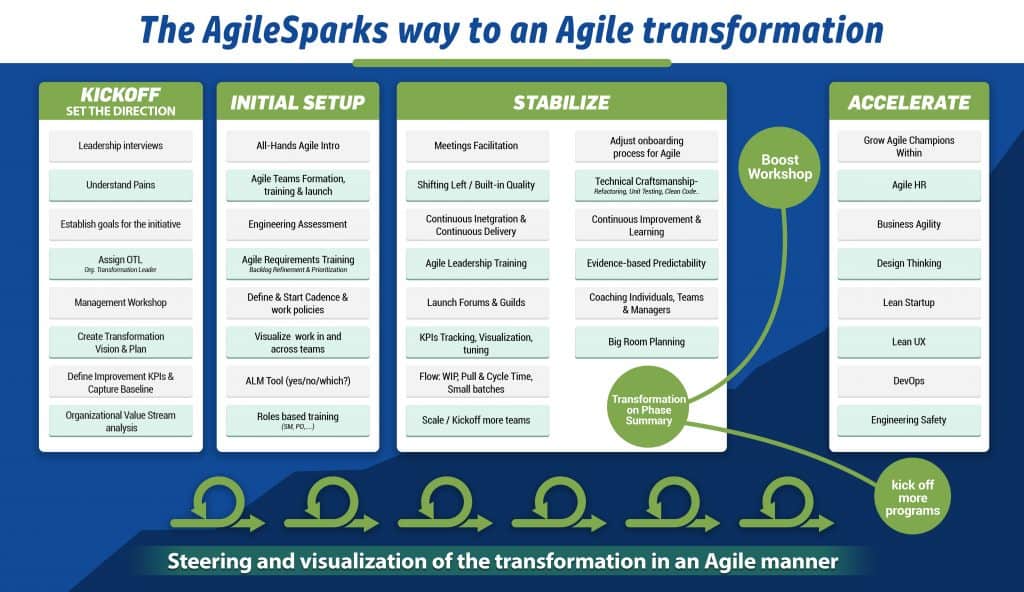 Plan/Initiate Phase – when trying to help a group of leaders understands the pains in their organization.
I found that at least for some of the questions (e.g. Players vs Pawns) it makes sense to ask them to predict how their people would answer. I now do this pretty frequently during the first 1-2 hours of our 2-day executive/management workshop. The answers can also be used to establish the right language/terminology for goals. (E.g.: "we want to become awesome at Learning")
Kickoff – When training a group of teams in agile (Which is the way I typically do it these days (inspired by the SAFe™ QuickStart),  run the health check with all of them, with the goal of establishing the pains, language and have some fun. (See below for an alternative way to run the health check that might be more fun/easier logistically with a bigger group…)
Stabilize – Beyond running the health check at the team's level periodically, one interesting option is to run/rerun it with the whole group e.g. as part of an all-hands meeting or before the group-wide Demo.
Steering the Initiative – With the steering forum. One obvious option that Henrik describes is to look at health checks performed at the team's level and look for some common trends/impediments that should pull the attention of the steering forum. Another option to maybe try to convince them to even run those health checks in their teams is to run it as part of the steering. The answers won't be as accurate but in my experience, those steering the implementation already know a lot of what is going on if you point their attention to the right questions.
Summarizing the Stabilize phase / Implementation Increment – The health check can be a good way to summarize where you are. Using the "Open Space Agility" spirit you can use the health check as a pre-amble to an open space discussing a theme like "What's next on the journey to improve the health of how we work?". You can do this with the whole group, or just interested parties (What Daniel Mezick calls "willing and able" – those interested in actually having this discussion)
When preparing to Boost/Improve – This actually looks like another iteration through the AgileSparks Way cycle (so go see the Plan/Initiate phase).
Running the Health Check with bigger crowds
When we decided to run the health check with a group of 50 people in Waltham, MA back in July we decided to experiment with using Kahoot to run the survey. Peter Ungaro spent whatever hours we had before we made that decision and the actual all-hands meeting taking the health check and creating a Kahoot Survey from it. Note we also included some specific questions that are not referenced in the link above. (Big kudos to Peter!)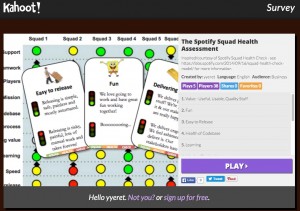 Since then I've been using this survey pretty often. The cool thing about Kahoot if you haven't tried it is that it feels like a "game show", with suspense music, and everything. It is very easy to participate on your mobile phone/laptop without installing anything, and once you start it is a lot of fun, with the timer countdown helping maintain rhythm.
I only ran it with everyone in the same room so far, but I think it can do a reasonable job at running the health check with a distributed group which might be useful as well to many organizations. I understand even Spotify now has some distributed Tribes and even Squads. It will be cool to see them try it themselves…
The survey is available for free use. You can take it, duplicate it, add some of your own questions (Spotify provides their survey as a PowerPoint deck so you can easily add more questions), and experiment with it. If you're struggling to figure out how to use it in your context I'd love to hear and help.
You can use this at the squad level but I think the job the Kahoot really helps with is running it for a wider audience. Obviously, you can still do that with red/yellow/green voting cards, but experiment with Kahoot and see if you like it. One good source of questions to add is Jimmy Janlén's team barometer.
Approaching New York… and the reasonable blog post length…
So just thanks again to Spotify and Henrik for sharing a great internal tool with the agile community out there. (Actually, this is a health check that is applicable to non-agile teams as well – which is what makes it a great choice for teams/organizations just starting their agile journey or even looking at some other improvement journey).
Update: I actually shared this today with a couple of the Spotify NYC coaches and got pretty good feedback. Jason didn't like the Kahoot soundtrack though. I'm sure a Spotify playlist plugin is now up in the backlog.